Learn more about our TouchLessService™.
Read More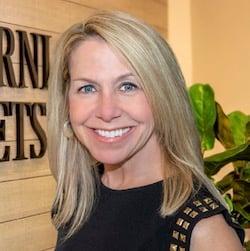 Jennifer Fiore
Design Consultant
As a California Closets Designer, I am proud to present myself as one of the few individuals that does not consider their job "work", but instead, a creative journey through which the outcomes are inevitable. Every day, I look forward to meeting and getting to know new clients, as well as furthering the strong relationships that I possess with my current ones. Through consultations and well thought-out collaborations, I am able to bring my clients' dream designs to life while simultaneously incorporating my own artistic flair into the projects. Though the entire process is extremely rewarding for both myself and the client, seeing the finished product and the happiness that accompanies is, by far, one of the most satisfactory moments in my profession. Allowing me to utilize my Interior Design degree and extensive product information, California Closets has not only connected me with my true passion, but has also allowed me to build personal connections and positively impact the lives of individuals while still doing what I love.
My husband and I recently gutted an old Spanish colonial with the help of an architect in Highland Park. At the end of the remodel, we still had a smaller room that we decided we wanted to make an office out of for my husband. I had seen pictures of California Closets work and wasn't sure if they would even want the project since it was a smaller space. I contacted Jennifer and she couldn't have been nicer. She was very quick to meet with us for a consultation to view a computer assisted drawing. In addition, I was impressed with her design background with regard to color scheme for choosing shelving and desk color since this space was not typical. After we made our decisions, she sent out our installer who was very thorough in reviewing our installation before completing it. He did a great job and was good about clean up at the completion of the job. Jennifer did come out to our house to check on everything which I was very happy about since this was a smaller job. It was fun to work with both of them. I still have another office in our basement that I am very much considering bringing her back to consult with and remodel. Good luck with your project! I would highly recommend them. It was a great experience and I look forward to working with them again in the future.

We basically narrowed down our choices to California Closets and TCS (Container Store's custom closet systems). California Closets was more expensive but the design felt more customized and higher-end. Jennifer was fantastic through the whole process and spent a lot of time with us. We met at our home twice, at the gallery in Glenview and even at the gallery in Chicago. We went through multiple design and finish changes before finally arriving at a completed plan. The installation took a few days and was very smooth. The finished closet looks fantastic and is really working well with us. My overall impression is that California Closets is still a step above the other closet companies out there. TCS is not far behind and when they have things totally figured out they are going to be a major player. We were so glad to have met Jennifer. She has a great personality and was so attentive to our needs. She helped us cut some costs by not doing backing behind the closet (and it looks great without it). She also had a lot of thoughts and opinions about how finishes would look. She spent tons of time with my wife and I going through our clothes and making sure we had the right amount of hanging vs folded, etc. I really feel like although we paid a lot that we got value from it. My wife still walks into the closet and says how much she loves it.

I think you will be very pleased with both Jennifer and California Closets. Coming from California, we had already used the company in our previous home for both closets and garage space. I was very impressed with how the designer maximized all of our space. We had some tricky closet spots and a VERY tight garage space. Our Wisconsin builder had originally contracted with another local company. After meeting with that designer and seeing his designs, I felt that he hadn't listened to me at all and basically just "phoned it in" using basic templates. I then asked our builder if there were any California Closets locations nearby, and that's how we came to Jennifer. From the get go Jennifer was attentive and worked hard to give us everything we asked for. Because our project was completed long distance (Southern California to Wisconsin), Jennifer was able to show me designs via the internet while we talked and virtually moved things around to make desired changes. That was a REAL plus for us not having to travel back and forth. The end result is beautiful, innovative custom spaces. We have a small mud room closet that has perfect spots for all of our sloppy cold weather clothes and shoes as well as dog leashes and gear, boat keys and hats and scarves. The installers were neat and tidy, and and Jennifer's follow-up was terrific. Our overall experience was A+. I hope that this will be helpful to you in making your decision. Closet design isn't cheap, but the end result is so worthwhile when it's done well.