Learn more about our TouchLessService™.
Read More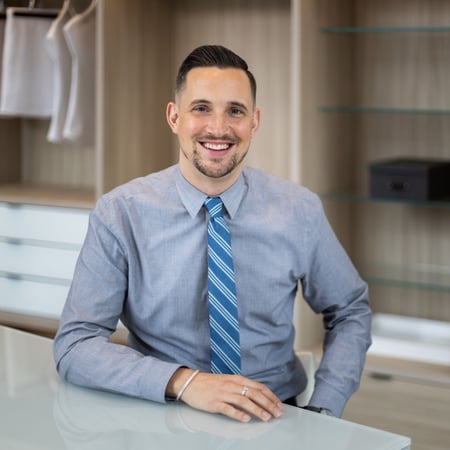 Keith Johnson
Design Consultant
After obtaining a Bachelor's of Architecture Degree from the New Jersey Institute of Technology, I practiced in the field of architecture for nearly 10 years. I then decided to leave that cubicle lifestyle behind to pursue my dream of traveling the world. My love for people and discovering new cultures has brought me to 35 countries across 6 continents. As a result, I have discovered a newfound passion for Customer Service and Hospitality. Upon my return to the States, I not only worked at a high-end boutique hotel in Boston, but also spearheaded my own walking tour around the city. During that period of time I received continuous accolades and five-star reviews for 'exceptional customer service'. Being at California Closets has allowed me to merge the two passions that I hold closest to my heart: DESIGN and YOU (the customer)! Let's face it, this is New York City and space is at a minimum! In collaborating together you can certainly expect that your storage needs will always be prioritized. I use my architectural knowledge and experience to find creative solutions that will maximize space without sacrificing the overall design aesthetic. Exceeding your expectations and ensuring your total satisfaction from start to finish is always at the forefront of my mind! So, what are you waiting for? Let's work together, the opportunities are endless…
Keith Johnson's Portfolio
I'm committed to listening, collaborating, and working with you to design a custom solution that will optimize any space in your home. Here's a collection of some of my favorite projects to help you get inspired.
Had a great experience with California Closets, particularly Keith Johnson. He was knowledgeable, responsive, enthusiastic and flexible--all the things you want when partnering with someone on a project! The planning and installation went very smoothly, I couldn't be happier. I also assumed California Closets were out of my reach budget-wise, but a little research showed that they are very very competitive, and the quality is first-rate. I will happily go back to California Closets again for any of my closet needs.

We had a wonderful experience working with our California Closets designer, Keith Johnson. He was patient, thorough, and led us through several revisions to get to our ideal state. The installers were timely and professional.

When I moved into my new apartment, there was not a single closet. I reached out to several contractors. None matched California Closets in responsiveness, price, nor design. The design consultant I was assigned, Keith Johnson, was very helpful and designed the perfect closets for the bedroom and library for my living room. It has even more space for my books than I had imagined. The builders were very friendly, efficient, fast and competent. They answered all my questions and helped me with the rearranging of shelves. I highly recommend this company and Keith as a design consultant.

We are beyond thrilled with our closets from California Closets! Our designer, Keith Johnson, did an absolutely phenomenal job at bringing our closets to life! He is an expert at designing functional and beautiful closets. He came to consult us at our apartment and was super responsive throughout the entire process. We consulted with a few other custom closet providers but none compared to Keith and California Closets. I highly recommend working with Keith!