Learn more about our TouchLessService™.
Read More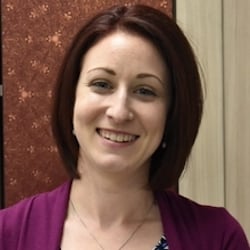 Lindsay Leach
Design Consultant
From the time I was little girl I have been organizing everything around me and always dreamed of helping others do the same. Being a designer for California Closets has given me the opportunity to combine my passion for design and organization. Every day is something new as no two clients are the same and no two spaces are the same. With a degree in Interior Design and background in visual merchandising and customer service it proves valuable every day. My goal is to always listen in order to create a space that is not only functional and orderly, but stylish to suit the needs of my client. I love every new challenge that comes my way and look forward to designing a better life for you!
This is my second time working with Lindsay Leach (first project was my laundry room and second project was my office closet turned into "credenza"). I can't say enough positive things about both experiences. It makes a huge difference to work with someone who listens to your needs/wants and helps bring them to life - with much patience! California Closets worked to fix an issue with two of the overhead doors. No questions - just solutions. It was fantastic. The quality of the product is amazing and I love my two rooms even more now! Thank you - Lindsay! I am referring you to a friend!!!

I am absolutely thrilled with my new closet! Lindsay was my designer, and she was attentive, creative, and very easy to work with. She designed me a closet I could see over Zoom with all of my needs (and wants) included. The wood is sturdy, high quality, and beautiful. The price was extremely reasonable compared to other companies I had priced. I would 100% recommend California Closets!

Lindsay our closet designer was fantastic and when the big day for installation came, out installation crew was A+ as well. Our project had angled walls and took longer than anyone expected, and the four guys stayed till late in the night to finish the job! My closet is better than I could have imagined! Not one bad experience through this whole process.

The experience was very simple. Everyone involved was so helpful . Lindsay made the decision making so easy. I had no idea what I wanted except I wanted an organized white closet and I wanted to eliminate a dresser in my small bedroom. She made it so easy. I left her to do her measurements and I have all I wanted! Armando came in exactly the time he said he would be here. He was so pleasant! The closet is strong, clean and organized! Literally when he finished everything was spotlessly clean.

Lindsay was an outstanding 'closet vision guider' and such a skilled designer. David and Tento were fantastic installers, prompt, fast, attention to details throughout. Professional service from start to finish. Very impressed, and so worth the investment!!