Learn more about our TouchLessService™.
Read More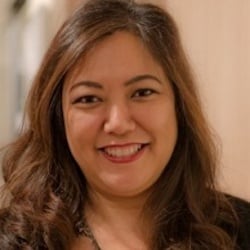 Lylah Reid-Akana
Design Consultant
Your home is your castle! I received my interior design degree in 1996 and began working at California Closets in April of 2011. Getting to know my clients is part of the design process. I feel that listening is key to visualizing what homeowners want and how to find the best possible solution. I strive to give feasible options so that we may find the best possible solution in each circumstance.The best part about my job is that every project offers a new challenge to create a space that makes clients feel good. I want their experience with California Closets to elevate the function and beauty of their homes, so they can love it even more!
Lylah Reid-Akana's Portfolio
I'm committed to listening, collaborating, and working with you to design a custom solution that will optimize any space in your home. Here's a collection of some of my favorite projects to help you get inspired.
Lylah was a great consultant. See was very engaged, attentive to our needs/desires, and provided sounds solutions that fit our budget.

The design and installation went beyond my expectations. I want to thank my designer Lylah, who designed the closet within my budget and offered the best quality of closet to fit my needs. The closet turns out to maximize my space and be perfect. I also want to thank Iris who passed on my concerns regarding any damage/ stains during installation. The installers protected my floor and furniture and sanitize the closet after installation. California Closets demonstrated their professionalism and attention to detail. I will definitely work with them again.

Excellent! The closets are beautiful! Designed well and the installation process was seamless. Very friendly technicians on site. Fast, efficient!

Lylah is an EXCELLENT designer. She was almost instantly able to turn our vision into reality, including all features we were hoping for and working within the limitations of the space. We looked at "off the shelf" options before returning to California Closets, and the effort and expense we would have put in to get something not-quite-right easily justifies the cost of this custom work. Having two earlier projects that I have been very satisfied with also made this an easy decision.

Lylah Reid-Akana is one of the most efficient, personable and truly professional consultants I have ever worked with. I will recommend her to anyone who is looking into a closet system. The three installers were friendly and courteous and did a great and neat job. I am totally satisfied with California Closets' products and services.

Very professional from the start, from my initial meeting with Lylah, to providing product samples, ideas and great suggestions. She also added her expertise when revisions to our installation needed to be done. Thank you for creating our dream walk-in!

Very professional from the start, impressed with the knowledge of the Design Consultant and thoroughly enjoyed working with her. The installers did an excellent job as well, even to clean up when they were completed. Thank you very much!

Lylah was wonderful! Very easy to talk to and she listened to our needs. She created the closet of our dreams :) We will continue to refer anyone looking for a custom closet to her.

From the salesperson to the installer, they were courteous, friendly, on time with the order. then the install went great. One piece needed trimming and they just made a new piece. Very satisfied!

I am so in love with the professionalism, quality, and just overall ease of this entire experience. I can't express in words how happy I am to have our closets! This is the one thing that I really wanted to splurge on and I could not be happier! I got to organize our master bed closet yesterday and it's truly just a dream. Thank you thank you thank you again so much for all your help! I've already had several people ask me where we got our closets, and I'm sending them all to you!