Learn more about our TouchLessService™.
Read More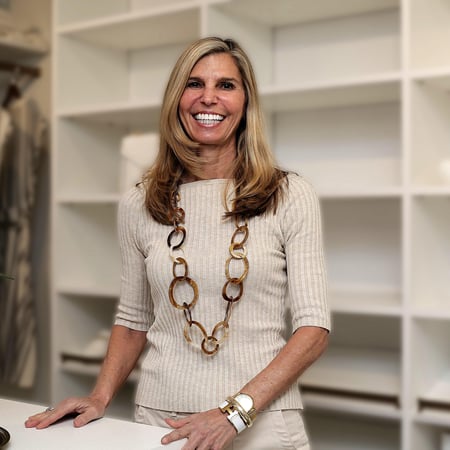 Mary Jo Fornshell
Designer
I joined California Closets in 2015 after finishing the Residential and Commercial Design Program at Fairfield University. I have always loved space planning and the design challenges that come with it. I love meeting new people and working with them to create unique, custom solutions to their storage and organizational needs while remaining consistent with their style aesthetic. California Closets is at the forefront of current designs trends while still remaining classic in offering beautiful finishes that complement all styles of design. I look forward to meeting you and working with you on your next project!
Our experience with California Closets Connecticut was exceptional -- from planning to installation to follow-up, our designer Mary Jo Fornshell was such a delightful, talented, and devoted professional and she took the time to understand our taste and functional needs and the personality of our home. The corporate team was also supportive and we could not be happier with our new Aspen and Morning Lights closets. CA Closets earned and deserve our highest recommendation.

We are delighted with our closets. Mary Jo our designer was wonderful, so professional, and yet so warm and understanding. She made the experience so seamless. The installers were also very professional and polite. Thank you!

Mary Jo was our representative and did a fantastic job. First putting in a beautiful and totally functioning master bedroom closet.. she covered all our needs. Then came back to put in a small desk in my office space since I couldn't find one small enough with file drawers and one that would fit my needs. The desk turned out perfectly. I LOVE California Closets their installers, Mary Jo and their product couldn't be better.

MaryJo Fornshell was incredible as was the installer. Both were patient and thorough and worked with professional precision from start to finish. Thank you so much for my beautiful new console and closet!!