Learn more about our TouchLessService™.
Read More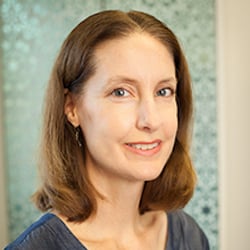 Maureen McManamen
Design Consultant
I have been a design consultant for California Closets since 1997 and truly enjoy working for such an amazing company. We continually strive to offer the best products, the best designs and by far, the best overall experience. My favorite part is getting to know my customers. I enjoy collaborating with each person to develop the vision they have for their home. Each space is a puzzle to be solved, a challenge to find the right balance of organization, function and style. The end result – a beautiful, efficient use of space – is worth celebrating. I live with California Closets in my home and know what a difference they've made for my family. Having an organized home helps free up time for more important things. It's a pleasure to help my clients achieve a bit of order and calmness in the midst of their very busy lives. When I'm not designing new spaces, I'm spending time with my family and friends, working in my garden, enjoying the outdoors and planning my next trip!
We worked with Maureen McManamen. She was great. It took us a long time to pull the trigger and she was patient and supportive. She paid close attention to detail and we are very happy with our built in office.

Great team from designers to installers. Maureen helped us realize our vision and kept us informed at each step of the process, inspecting the end result and recommending some minor touch ups to achieve the perfect result. We are extremely happy with the final install.

The entire experience was wonderful. Maureen was a wonderful design consultant from start to finish. She was a total professional and excellent to work with. Ivan was awesome. He was very professional and went above and beyond--excellent. The entire experience was wonderful.

Amazing! Every step of the process was perfect and seamless! Installer and designer were professional, personable, and fantastic! The closets ended up beyond perfect and we for sure will be doing other closets in our house!

Very professional Walked me through each step Would love to work with this company again!