Learn more about our TouchLessService™.
Read More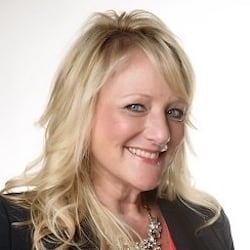 Melody Rosen
Senior Certified Design Consultant
For more than 19 years I have created beautiful custom storage solutions for my clients. I understand the needs of today's busy lifestyles and how getting organized in every area of your home can make your life easier. Applying my years of experience along with our 3-D custom imaging, I will provide you with the best possible experience and exceed your expectations! My favorite part about working at California Closets is having the opportunity to meet new people every day and work together with them to create something beautiful that they are excited about. My most important task is to be a good listener and through communication and creativity we can plan the perfect space. Let me help you "Simplify your life." I look forward to working with you!
Melody Rosen's Portfolio
I'm committed to listening, collaborating, and working with you to design a custom solution that will optimize any space in your home. Here's a collection of some of my favorite projects to help you get inspired.
I had a great experience with California Closets. I was blessed to work with Melody Rosen, who was by far, one of the best, most knowledgeable and patient gals in the field. She went above and beyond to help us get the closet that my Husband was willing to afford and it still looks like a million bucks. Her design expertise was second to none and she works quick. She knows what works and what doesn't work and I would recommend her to anyone and everyone looking to design and organize in their new spaces.

Melody Rosen is the absolute best representative/employee that California Closets could possibly employ. Her knowledge of the products and her ability to design and consult on site well exceeded our expectations. We are 100% satisfied with the experience so far. If the install and quality of products matches her design capabilities, we will be blown away.

Melody's extensive experience and creativity were on full display during our consultation. She was so thoughtful and asked really useful questions to make us the closets of our dreams! I was really impressed with the process of building a closet right in front of us so we could add our input in the process. It felt very custom and it was so much more enjoyable than I anticipated.

Amazing! I had the best designer ever. She listened to my needs and made the perfect design.

The customer service is top notch! Melody not only created the perfect design she knew the program so well, that even though it was updated with glitches she could maneuver effortlessly. We had checked with another closet company first was very disappointed with the designs and limitations telling us they couldn't accommodate what we wanted. Melody created exactly what we wanted and from the very start by asking questions and actually listening to our needs. I was sold immediately. I can't wait to get organized!

Melody was great! She was very knowledgeable and helpful in steering me to the best overall product design based on my budget and needs. She was very responsive and easy to work with. It was also very easy to go through the software and make changes and see how it manipulates the design and cost in real time and with 3D rendered imagery.

Melody, my CC designer, was terrific to work with. She is incredibly responsive and detail oriented, and a fabulous communicator. I would definitely recommend her and her install team to anyone. I am very happy with the finished product.

Melody was fabulous! She took the time to see what we needed and designed the most fabulous closets that the space would allow, all while being sensitive to our price restrictions. Install took a long time but was done professionally and looks great. The materials are all high quality and we couldn't be more pleased.

I worked with Melody Rosen designing a large (very large) dresser for out bedroom. I could not be happier with the end result. It was like she was able to read my mind and then came up with the perfect design. This was the second time I used Melody but it certainly will not be the last. I couldn't stop saying I love it, just love it....Saving my pennies for the next two projects.

We had a very small space to be repurposed and Melody did I great job understanding our needs. She immediately made great recommendations and we couldn't be more pleased with the finished result. We're not sure how she did this magic trick, but somehow we now have more room for everything.Thank you!

My sales rep Melody was excellent. Her design concept and use of all available space was amazing. The computer aided drawing made visualization of the finished project easy. The guys did a great job with the installation of my new closet. They were very careful not to damage the new hardwood floors and wall paint. They also cleaned up behind themselves which was a great help. I highly recommend California Closets.

Totally AWESOME! Melody Rosen, our design specialist, took our ideas and turned them into reality. The installation guys were unbelievably timely, efficient and when the job was done, they cleaned everything and left us with exactly what we needed! The quality of the product is beyond belief. I would recommend California Closets to anyone interested in THE BEST!

Melody was a terrific sales rep from the beginning to end of the process. She was patient when designing my closet and worked with me to show me several different layouts. She was very open to hearing my ideas and very helpful in helping me make changes. She was always prompt to respond to my emails and let me know exactly what the closet would look like and cost. Jeff built my closet and did a great job. He finished the closet in less time than estimated and did a great job walking me through the ins and outs of the closet. I had a fantastic experience working with California Closets, and I will be contacting them in the near future for other closets in the house.

My experience was excellent from my initial consultation with Melody Rosen, to the installation by Jeff Stryker. They were very professional, yet both were friendly and easy to work with. Both arrived on time which was a big help to my schedule. The design by Melody was just what I had hoped for, with lots of storage. The installation by Jeff was excellent. He was very diligent to complete the closet and pantry in a timely manner. He also left everything very clean and neat. All I had to do was start organizing my wonderfully designed and installed California Closet :)

I absolutely love my new master closet and entertainment unit in our den. Melody helped design the perfect lay out for my master closet to maximize the use of our space. The installers were on time and did a fabulous job. Definitely recommend California Closets to anyone looking to improve the look and function of any storage space they have. Thank you.

Primarily worked with Melody. Melody worked on the design of my guest room closets, so I contacted her again when it was time to do my master bedroom closet. She is a pleasure to work with - professional, personable and she really listened to me when I described what I wanted and needed in the closet design.

Melody's 18 years of experience as a designer was obvious. She was extremely professional. I would highly recommend her and her company to you.

It was a wonderful experience right from the beginning. Melody Rosen was so experienced and informative during the design process and she thought of every detail. She was professional and a joy to work with. All of the installers who came out were also very professional and wanting to make sure I was completely satisfied with their work. We are so happy with the end result! Thank you!

Great customer service! In many businesses today it is unusual that we can say great for customer service. Kudos to California Closets for maintaining such a high standard.

I am thrilled with my California Closets experience. They custom built a makeup vanity and a storage unit for my bathroom that was half the cost that was quoted by my cabinet maker. The piece blended beautifully with the other pieces in the bathroom. The men who installed the pieces were professional, neat, and polite. I felt very comfortable having them in my home. The designer I worked with understood and met all of my needs. I highly recommend California Closets without hesitation.

LOVED IT! We worked with a great and very knowledgeable account executive. As an interior designer I was looking for someone who would listen to my needs and execute, and Melody was superb!

It was excellent in every way! The designer Melody went the extra mile so I could have all the work done on the same day, and both installers were professional, personable, and very good at their jobs. They cleaned up, and left everything looking great. The closets look fabulous, and are so well constructed. I couldn't be happier with the whole experience from start to finish, and would highly recommend California Closets to anyone!

Loved it! Melody was creative, flexible and evolved the design to ensure it met our needs! Will use her and California Closets again!

Excellent experience from start to finish - Our salesperson, Melody Rosen, was outstanding! Her knowledge and expertise were evident from the start. She was able to assess our needs and provide options that best suited our budget and requirements. She gave great recommendations.

From setting up the consultation to the installation - the process was very easy and the finished product was as promised.