Learn more about our TouchLessService™.
Read More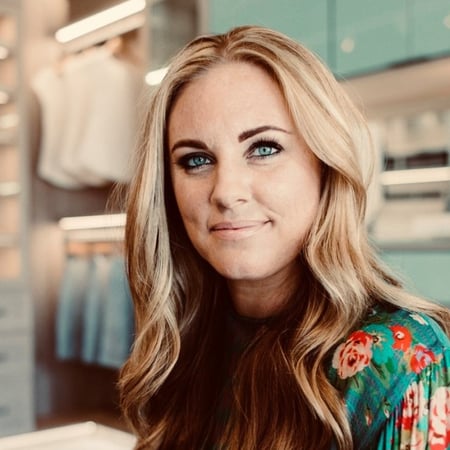 Nicole Caswell
Design Consultant
Design Consultant Nicole Caswell has worked in the design industry for the past 20 years. She joined the California Closets team in 2014 in Los Angeles, CA. Since then, she has dedicated her efforts to creating beautiful and functional spaces to enhance clients' organizational needs. Nicole's collaboration work can be viewed in Ideas of Order Vol. 2-4 as well as Domino Magazine and House Beautiful. In 2018, Locale Magazine of Los Angeles, CA named her a "Homegrown Pro," focusing on experts at the "Top of Their Game." Nicole most recently moved to the island of Maui where she continues to work with the Trade business and local clientele.
Nicole Caswell's Portfolio
I'm committed to listening, collaborating, and working with you to design a custom solution that will optimize any space in your home. Here's a collection of some of my favorite projects to help you get inspired.
Nicole was fantastic. Very thoughtful, gave great attention to our objectives, thorough follow-through. Highly professional but also incredibly friendly.

Professional knowledgeable team from sales, design and installation. Product appears to be of high quality and installers were highly competent causing minimal property disruption and excellent clean up following work.

Nicole Caswell was such a talented designer and understood my need for clean lines. She was a wizard in mocking up the closet on the computer and was so fun to work with.

I love how uniform and clean everything is. It is functional while not feeling stuffy. It feels like me.

Nicole Caswell was incredible in making sure she designed it based on how we live and what made the most sense for each section.

Awesome - totally professional from Nicole's design and implementation to installation, Nicole is awesome - she is relentless in her pursuit of perfection for our garage design! Love her!

The whole process was amazing. Our consultant Nicole was patient, creative, detail oriented and simply amazing.

Nicole was amazing to work with. She knows all about the available products, listened to our needs and made great suggestions and was terrific with setting expectations and keeping us informed about the status of our order. We are delighted with the end product and would do it again in a second!

My consultant was so helpful, and had some great ideas. She was very knowledgeable about the products. So happy and excited to see the final product.

Nicole Caswell as a sales rep... she is a phenomenal asset to your company.