Learn more about our TouchLessService™.
Read More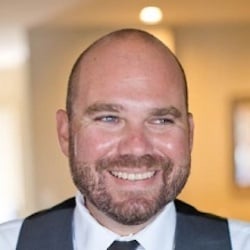 Roland Gabriel
Design Consultant
I started my career with California Closets in 1996 as an Installer and then moved into a position as a Design Consultant in 2000. During my career as a Design Consultant, I have designed and sold over 6,500 custom storage solutions with over $20M in designed and installed projects. I was a top selling Design Consultant with the San Diego franchise for 13 years and 7 years in the Hawai'i community. Prior to California Closets, I was enrolled in business school and held positions within the construction industry. My extensive experience in both the design and installation side of this industry leaves me highly qualified to handle all of your specific design needs. I look forward to working with you and designing your unique custom storage solution.
Roland Gabriel's Portfolio
I'm committed to listening, collaborating, and working with you to design a custom solution that will optimize any space in your home. Here's a collection of some of my favorite projects to help you get inspired.
Best investment ever. The custom cabinets were awesome and the work was truly professional and amazing. Would recommend to anyone looking to upgrade their unit.

We are truly amazed at the quality, craftsmanship and professionalism of California Closets of Hawaii!!! We LOVE every single item & cannot stop raving to friends & family how happy we are!! We are truly customers for life!!! Thanks again!!

Roland was very attentive to what I needed and stayed in our budget. The California Closet team was excellent with billing, communication and execution!

It was Great!!! From start to Finish!!! Roland our Designer was very intuitive to our wants and needs. Roland was very patient, answered all my questions. I would highly recommend this company!!!

Service, quality of products, responsiveness to challenges and Roland!

Consultant Roland Gabriel was a joy to work with! We had two closets to design: with the first we were happy with his initial design, but for the second we had to think about it and modify several times (our issues, not his). Throughout he was very patient and understanding. We found the price to be reasonable for what we expect to be delivered, and frankly had expected it to be more expensive.

California Closets helped make our decisions easier, they were a professional company to work with. Roland was very knowledgeable, he had great ideas and options that worked in our budget. What I liked most about California Closets is buying and keeping it local as much as possible!

California Closet - Honolulu is a great team to work with! From first contact to complete installation, and even follow-ups if needed. I highly recommend! Roland is our go to guy - special shout out to also Steven, Iris and Tom for their efforts and support!

Great service and the quality of the cabinets are excellent!

I love my new closet and shoe shelf so much that I did not put doors on mine! I work in the retail fashion industry, so I love to see my wardrobe, shoes, and handbags at a glance. The design process with Roland was fun and my installer was amazing. I will be calling again to build my office area and built-ins for my living room. Can't wait!