Learn more about our TouchLessService™.
Read More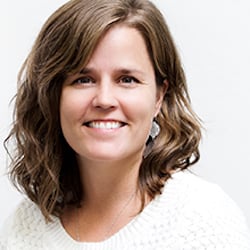 Sarah Winge
Design Consultant
I love meeting my clients and knowing that every day is a different challenge as no two spaces are alike. Being able to talk with my clients to learn about their specific needs allows me to customize a space that is unique to their home and lifestyle. Creating an organized space, whether it is your closet, home office, or even garage can allow you to move through your daily life with ease. I strongly believe that an organized space can create a sense of calm in our ever-changing, busy lives. My background in personal organizing and over ten years of experience in design has allowed me to merge both aesthetics and function to create spaces that best suit your needs. I have a degree in design, with an emphasis in spatial design and color. I am also a member of NAPO (National Association of Professional Organizers).
Sarah Winge's Portfolio
I'm committed to listening, collaborating, and working with you to design a custom solution that will optimize any space in your home. Here's a collection of some of my favorite projects to help you get inspired.
Working with Sarah Winge has been a delight from start to finish. Her ideas, expertise and professionalism make for a GREAT project. My husband loves his home office, and it has exceeded our expectations.

This is my 3rd or 4th closet system with Sarah. I love working with her and recommend her to friends and family every chance I get! The final product is always beautifully done and definitely adds tremendous value to the property.

Sarah has been incredibly knowledgeable and patient as we've worked together to design multiple closets within our unit. She is fast with the tools, creative with her problem solving and has been incredibly responsive.

arah Winge was amazing. She provided exceptional support at every stage of the project, and brought great creativity and skill in design to implementation. The installer was equally wonderful. Sarah turned the space into a dream closet. As a gay man who came out of the closet in 1974, I may be going back in and never coming out. It's my favorite room in my house :-)