Learn more about our TouchLessService™.
Read More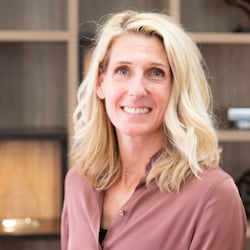 Tricia Ordway
Senior Design Consultant
Trish has spent over 20 years in the fashion industry and has worked for several Fortune 500 companies. She has a passion for design and impacting peoples lives with beauty and function. Working for California Closets will bring a new area to showcase her talents with the desire to help people organize their spaces. She also uses her organizing skills as a stress relief and feels confident that she can help others take that chaos out of their lives. Tricia is also a Personal Trainer and Group Fitness Instructor and enjoys helping people achieve their personal goals with their health and fitness.
Tricia Ordway's Portfolio
I'm committed to listening, collaborating, and working with you to design a custom solution that will optimize any space in your home. Here's a collection of some of my favorite projects to help you get inspired.
Tricia was very friendly and professional. She knew just what I wanted and the job is very cost effective. It was a pleasure to welcome her into my home.

Trish Ordway was great. Very pleasantly surprised that the cost was reasonable.

Trish listens and 'knows her stuff'.

Good morning! I just wanted to touch base to tell you what a wonderful experience I have had with Tricia working on our closet. I've honestly been blown away. Years ago, my husband and I did a large renovation on our house and considered building out our master closet to include a fantastic closet system. Like most renovators, we had an overall budget and were trying to figure out what we wanted to focus on immediately, and what we would put off for a future project. We asked some friends for recommendations and looked online for some closet companies. When we put together a closet design with a few companies and requested quotes, we did not initially consider requesting a quote from California Closet because of its reputation for being so much more expensive than competitors. It also has a reputation for being a high-end, top quality product, of course, but we knew we did not want to spend hours working with a member of your team to find out that the closet we designed was way out of the ballpark of what we were considering. On a whim though, I emailed California Closets to see if they could provide a ballpark quote for the design we were considering to see if it was worth spending the time to work with them to put together a quote from California Closets as well.